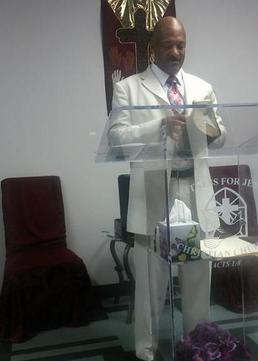 Willie B. Heard, Jr. was born in Arkansas and raised on a small farm owned by his Dad. He attended Wedowee High School.  In 1968 Pastor Heard left Graham, Alabama and relocated to the Seattle area.
In 1974 he had an opportunity to hear the Gospel message and the marvelous plan of Salvation and accepted Jesus as his personal savior and has been saved since then but most of all loving every moment of it.
In 1993 God blessed Pastor Heard in Holy Matrimony and he and Evangelist Marion Heard were married on May 15.
In 1994, after seeking the direction of the Lord, God called Pastor Heard to pastor in the Kirkland area and on January 23, 1994 Witness for Jesus Christian Church was established. The ministry was founded on the scripture, Acts 1:8--"But ye shall receive power, after the Holy Ghost is come upon you, and he shall be witnesses unto me both in Jerusalem, and in all Judaea, and in Samaria and unto the uttermost part of the earth.
In 1999 Pastor Heard once again heard the voice of the Lord instructing him to relocate the ministry to the Bothell area to reach more souls for Jesus and he obeyed the Lord. In so many ways, this man of God is like another Job--God has truly blessed and continues to bless him and his latter years are now proving to be greater than his former. Pastor Heard is determined to LIFT JESUS UP everywhere he goes and to TEAR THE DEVIL'S PLAYHOUSE DOWN.